For a limited time, spend $200 or more on any Brand of CCTV, or on Hikvision Alarms and receive Free Shipping within Australia for all of those components in your cart! *Excludes Cable, Racks, UPS + Monitors
Hikvision – DS-PK1-E-WB – AX Pro Wireless Keypad
30/09/2021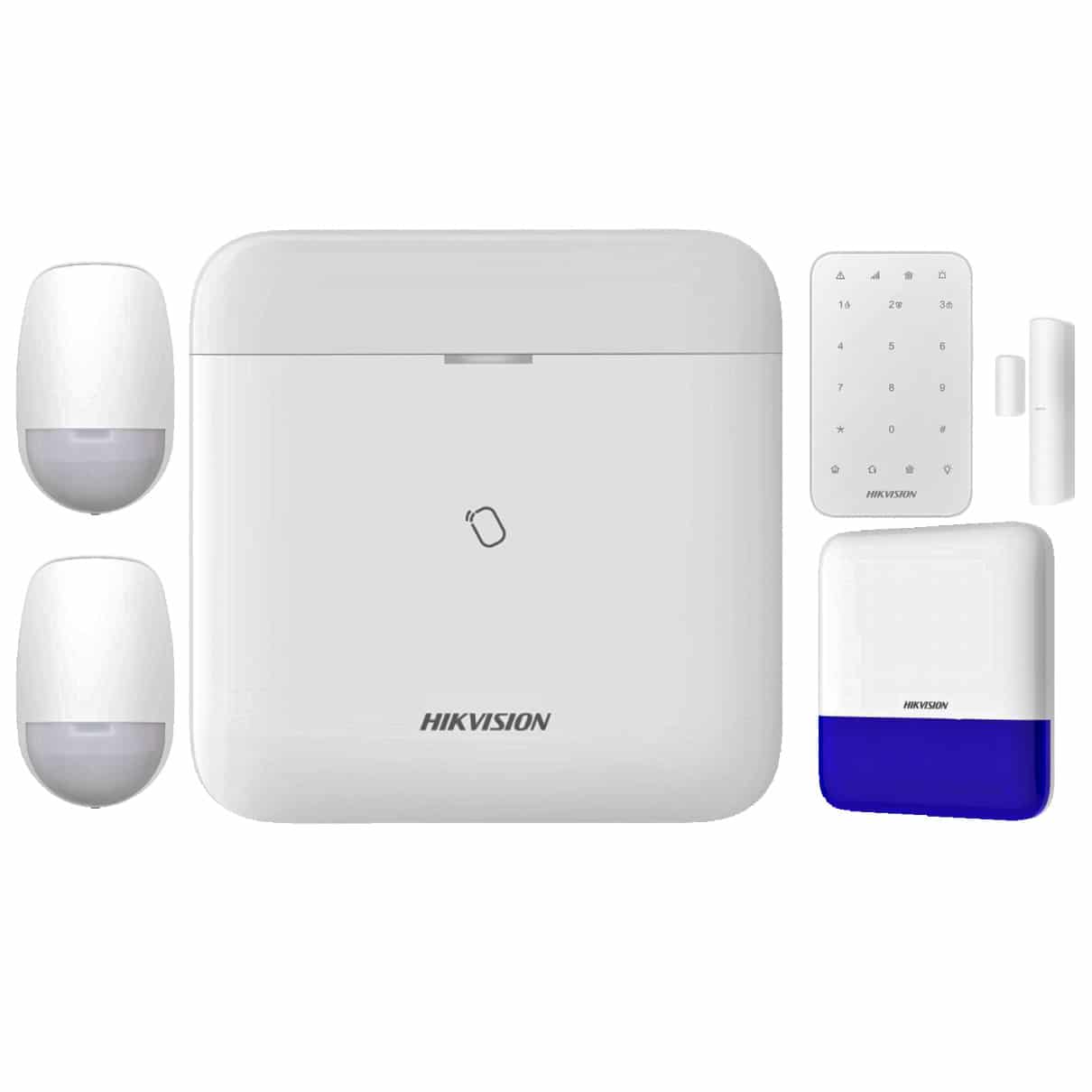 Hikvision AX PRO Wireless Intruder Alarm System Bundle HVAXPWKT2110B
02/10/2021
Hikvision AX PRO Wireless Intruder Alarm System Bundle HVAXPWKT2110A
AUD $773.00
Hikvision AX PRO Wireless Intruder Alarm System Bundle
SKU: HVAXPWKT2110A
Hikvision AX PRO Wireless Intruder Alarm System Bundle HVAXPWKT2110A  contains:
1x DS-PWA96-M-WE, AX Pro M-level hub wireless panel, supports Wi-Fi, TCP/IP, and GPRS/3G/4G
2x DS-PDP15P-EG2-WE – wireless PIR detector, 15m range
1x DS-PDMC-EG2-WE – wireless magnetic contact
2x DS-PKF1-WE – Wireless Keyfob, provides remote touchless setting & un-setting
1x DS-PS1-E-WE/Blue – Wireless Outdoor Sounder
DataSheet
Hikvision AX PRO Wireless Intruder Alarm System Bundle HVAXPWKT2110a
HikVision AX Pro Alarm Product Info + Key Benefits
Lightning Fast Shipping
All stocked orders are typically shipped within 1 business day.
Extended Customer Service
Real people (not bots) are available to assist with online queries.
All Products From Authorised Australian Distributors
Every product we sell is product designated for the Australian market by the manufacturer. WE DO NOT SELL Grey Imports.
Comprehensive Warranty Support
In the unlikely event that you need warranty support, we will help to expedite the process. We stand behind the products we sell.
Hikvision AX PRO Wireless Intruder Alarm System Bundle SKU: HVAXPWKT2110A
Complete control from anywhere in the world
Voice push notifications with Hik-ProConnect and Hik-Connect app's
No Detector wires, no fuss
Signal Strength Indicators
Instant Two-Way Device Control (ITDC)
Self-aware sensors
This starter wireless 868Mhz intruder kit from Hikvision provides a cost effective professional quality intruder detection system which can be customized by adding additional detection devices. Comes complete with external sounder with Blue strobe lens.
Hikvision AX-PRO intruder alarm systems integrate with Hik-ProConnect and Hik-Connect app's allowing advanced programming, setup, linkage to CCTV cameras and notifications to be managed and deployed with ease.
Whether you are looking for a sensibly priced security wholesaler to buy CCTV for your customers, or you are an end customer wanting a safe secure place to buy HikVision for your next project, Comms Direct Online make you the master of your CCTV security system.    Have a look at our range of HikVision NVR's, 4mp, 6mp and 8mp IP cameras, PTZ cameras intercoms, and CCTV and intercom accessories.  We also have Hikvision Alarms to further enhance your security.
Additional information
| | |
| --- | --- |
| Weight | 5 kg |
| Dimensions | 40 × 30 × 40 cm |