For a limited time, spend $200 or more on any Brand of CCTV, or on Hikvision Alarms and receive Free Shipping within Australia for all of those components in your cart! *Excludes Cable, Racks, UPS + Monitors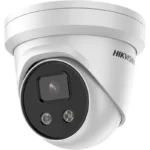 HikVision – AcuSense IP Camera 8MP 4K 2.8mm Turret Acusense Network Camera with Mic – DS-2CD2386G2-IU-0280
26/08/2023
Promotion Upgrade to 4TB 3.5″ Surveillance Hard Drive – HV3tb-4tbPromo
30/08/2023
Hikvision – 8MP ColorVu Panoramic Fixed Turret 4mm Dual Head Strobe + Speaker Network Camera – DS-2CD2387G2P-LSU/SL
AUD $541.00 inc GST
This item is Best Seller in following categories:
SKU:     DS-2CD2387G2P-LSU/SL
8 MP Panoramic ColorVu Fixed Turret Network Camera
High quality imaging with 8 MP resolution
One image that presents all the scenes covered by the camera
24/7 colorful imaging
Efficient H.265+ compression technology
Clear imaging against strong back light due to 130 dB WDR technology
Focus on human and vehicle classification based on deep learning
Active strobe light and audio alarm to warn intruders off
Water and dust resistant (IP67)
Combining ColorVu technology with AcuSense, cameras are able to capture human & vehicle targets with vivid color. Connected to Hikvision's back-end products, users will enjoy improved details in video playback and more efficient footage searches.
AcuSense-powered Motion Detection 2.0 distinguishes human beings and vehicles from other objects in any given environment, focusing on real security threats and enabling efficient video searches. Models equipped with Live Guard deter trespassers with visual and auditory warnings while sending notifications to users remotely
Datasheet
Lightning Fast Shipping
All stocked orders are typically shipped within 1 business day.
Extended Customer Service
Real people (not bots) are available to assist with online queries.
All Products From Authorised Australian Distributors
Every product we sell is product designated for the Australian market by the manufacturer. WE DO NOT SELL Grey Imports.
Comprehensive Warranty Support
In the unlikely event that you need warranty support, we will help to expedite the process. We stand behind the products we sell.
Hikvision DS-2CD2387G2P-LSU/SL – 8MP ColorVu Panoramic Fixed Turret Network Camera with Dual Head Strobe & Speaker
Product Overview:
Experience next-level surveillance with the Hikvision DS-2CD2387G2P-LSU/SL, a state-of-the-art 8MP ColorVu Panoramic Fixed Turret Network Camera. With unparalleled visual clarity, dual head strobe, and an in-built speaker, this camera ensures top-tier security for your premises.
Key Features:
Crystal Clear Imaging: The 8MP resolution provides sharp and clear images, ensuring every detail is captured, even in low light conditions.
ColorVu Technology: Experience full-color images round-the-clock. Whether it's day or night, the ColorVu technology ensures vivid imagery.
Panoramic View: Wider coverage with panoramic viewing capabilities. Monitor larger areas with ease, reducing the need for multiple cameras.
Dual Head Strobe: An advanced deterrent feature, the dual head strobe flashes bright lights to ward off potential intruders.
In-built Speaker: Communicate directly through the camera with its integrated speaker, adding another layer of security.
Robust Design: Designed for both indoor and outdoor installations, this turret camera can withstand varying weather conditions, offering longevity and reliability.
User-friendly Interface: Easily integrate and operate with Hikvision's network system for a seamless surveillance experience.
Benefits:
Enhanced Security: The combination of panoramic view, ColorVu technology, and dual head strobe ensures comprehensive security for your property.
Cost-Effective: Save on costs with wider area coverage, reducing the need for multiple camera installations.
Convenient Monitoring: Whether you're on-the-go or at your desk, monitor your premises with ease through Hikvision's user-friendly interface.
Bottom Line:
For businesses and homeowners seeking top-notch security, the Hikvision DS-2CD2387G2P-LSU/SL offers a perfect blend of advanced features and reliability. Invest in quality and peace of mind with this 8MP ColorVu Panoramic Fixed Turret Network Camera.
Find and add Brackets + Mounts HERE
Whether you are looking for a sensibly priced security wholesaler to buy CCTV for your customers, or you are an end customer wanting a safe secure place to buy HikVision for your next project, Comms Direct Online makes you the master of your CCTV security system.
Have a look at our range of HikVision NVR's, 4mp, 6mp and 8mp IP cameras, PTZ cameras intercoms, and CCTV and intercom accessories.  We also have Hikvision Alarms to further enhance your security.
Additional information
| | |
| --- | --- |
| Weight | 2 kg |
| Dimensions | 39 × 16 × 16 cm |